Chester's
Recipes
https://www.mychesters.com/Recipes/Detail/1989/Beef_Pepper_Steak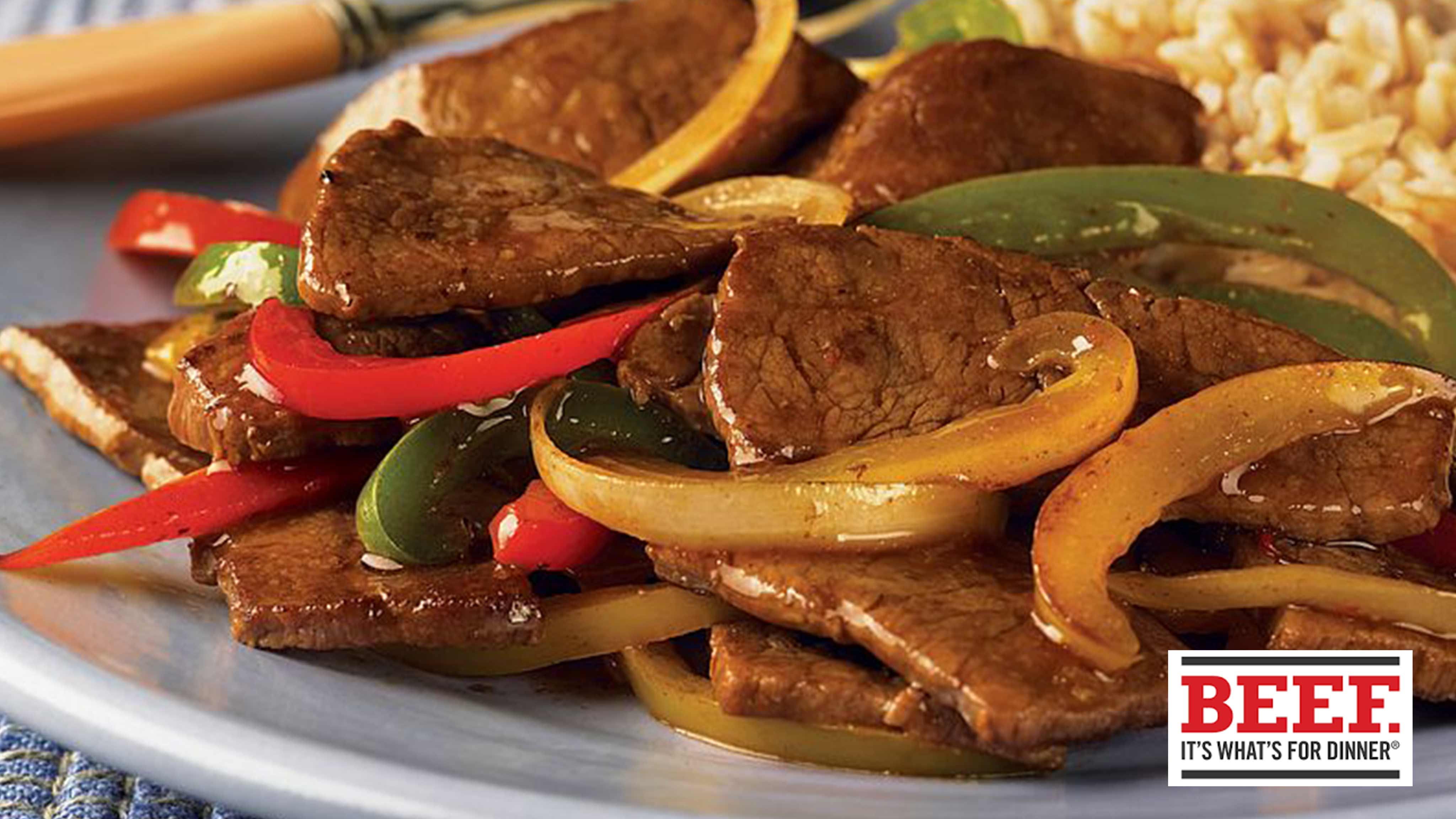 Beef Pepper Steak
A flavorful Italian-style marinade adds flavor and tenderness to beef steaks. Stir-fry with peppers and onions for a colorful, vibrant plate.

Yield: 4 servings
Preparation Time: and Total Time: 35 min
Ingredients
1
pound

beef Top Round Steak Boneless, Top Sirloin Steak Boneless, cut 3/4 inch thick or Flank steak

1/2
cup

prepared Italian dressing

salt and pepper

2

large bell peppers, any color, cut into 1/8 inch strips

1

onion, cut into 1/8 inch slices
Nutrition Facts
Yield: 4 servings
Approximate Nutrient Content per serving:
Calories:
242
Calories From Fat:
99
Total Fat:
11g
Saturated Fat:
2g
Cholesterol:
61mg
Sodium:
364mg
Total Carbohydrates:
9g
Dietary Fiber:
1.8g
Protein:
28g
Directions:
1. Cut beef Top Round Steak lengthwise in half, then crosswise into 1/8-inch thick strips. Place beef and 1/3 cup Italian dressing in food-safe plastic bag; turn beef to coat. Reserve remaining dressing for vegetables. Close bag securely and marinate in refrigerator 30 minutes to 2 hours.


2. Remove beef from marinade; discard marinade. Heat large nonstick skillet over medium-high heat until hot. Add 1/2 of beef; stir-fry 1 to 2 minutes or until outside surface of beef is no longer pink. (Do not overcook.) Remove from skillet. Repeat with remaining beef. Season beef with salt and pepper; keep warm. Wipe skillet with paper towel.


3. Heat remaining Italian dressing in same skillet until hot. Add peppers and onion. Stir-fry 5 to 6 minutes or until vegetables are crisp-tender.


4. Return beef and juices to skillet. Cook and stir 1 to 2 minutes or until heated through.

SAFE HANDLING TIPS:
Wash hands with soap and water before cooking and always after touching raw meat.

Separate raw meat from other foods.

Wash all cutting boards, utensils, and dishes after touching raw meat.

Do not reuse marinades used on raw foods.

Wash all produce prior to use.

Cook steaks and roasts until temperature reaches 145 degrees F for medium rare, as measured by a meat thermometer, allowing to rest for three minutes steaks.

Cook ground beef to 160 degrees F as measured by a meat thermometer.

Refrigerate leftovers promptly.

Please note that some ingredients and brands may not be available in every store.
Chester's Recipes
https://www.mychesters.com/Recipes/Detail/1989/